Posted: 8:02 am Nov-25-2018
#2968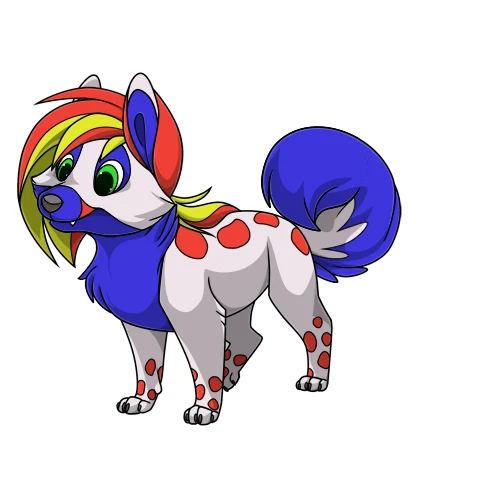 It's almost 6 years ago that I was introduced to Ovipets by someone that I had met while playing another game. I absolutely
loved it and after a few weeks of "discovering" the game, I became a paid player. I've been an Ovi-addict ever since.

I was having fun breeding pixel pets, meeting new people and making new friends. Soon I met someone that I got along with
very well and we started playing and making pretty pets together every day. We had been playing as a team for months when
she suggested starting an Ovipets group together.

I wasn't even remotely interested in starting a group. I had just spent 10 years of my life professionally running online
communities, dealing with 500.000 active members. I'd already seen more than my fair share of setting up raffles, lotteries
and contests, and I'd certainly had enough of having to sort out other people's drama. I didn't want to get into a mini
version of all that, I was happy being in the background for once. I just wanted to breed my pets and play the game.

Well, it took her a few weeks, but eventually she managed to talk me into it. We were going to start a group together. We were
going to call it Pet Market, and given my experience, I agreed to draft up the initial setup for it. We would create and start
the group in the first half of September, after she came back from her holiday.

In the weeks to follow we talked about our group to be all the time. Discussing our thoughts and ideas, a solid plan came to
life and both of us seemed to be very much looking forward to all that was to come. By now I had really taken to our plan and
was eager to get started. She went on vacation mode to go on her holiday, and I happily started preparing all that we needed
for when she returned.

She told me she would be back on September 12th, equally so putting a notice on her profile to let other players know the same.
Well, that notice is still sitting there today, because she never came back.

At first I just waited. Life has it's way, things can come up, people can be delayed. I really didn't think all that much of it.
By the end of September, I was having a clear gut feeling that something wasn't right, given she had been online to play other
games, just not Ovipets. I still just kept on waiting. You never know what is going on in someone else's life. Even though the
situation seemed quite obvious, I didn't want to jump to conclusions.

Another month went by. She never came back to Ovi and a few friendly messages sent on Facebook were seen but never responded to.
She was actively posting and gaming but clearly, she didn't care to talk to me. To this day I have no idea what caused that sudden
change and I admit that despite being full well aware of the true nature of friendships online, it hurt me a little bit. Frankly,
I felt treated like something disposable and if after months of hanging out together for hours a day I'm not even worth a single
line "I'm not coming back" message, then I'm not going to waste even more of my time by bothering much. I simply unfriended her on
Facebook and moved on.

Everything needed for the group was long since ready, so I just started the group by myself. That didn't take long though, because
very quickly I was joined by some wonderful friends and together we turned Pet Market's 1st year into a massive success. Those were
different times on Ovi still. Players were joining the group in droves and group activities would often see many 100's of entries.

Years have passed since. Times have changed. Ovipets has changed, so did the community and the activity in groups in general. Ovipets
has truly developed over the years, many improvements were made that changed the game for the better and everything seemed to have
"calmed down" a little bit for the better as well. There's always going to be "people issues" but over time Ovi seems to have become
a much more peaceful and drama free place.

Time has changed Pet Market as well. Some have left the team, others joined, but what has remained is that Pet Market is still a
group ran by a very small number of good people on a basis of fun, freedom, friendship and mutual respect. We are and always have
been an "everyone can but nobody has to" kind of admin team. Due to the that, Pet Market isn't an ongoing flood of group activities,
but it doesn't have to be. The group is active, we show our faces regularly, and when we do it's always because we choose to have
fun in the group, never because we feel we have to. Personally I am convinced that over time this has much contributed to the group
maintaining a friendly and drama free atmosphere.

Pet Market took off in it's early days, and the group grew many members quickly. Even though not at the same crazy speed, over time
Pet Market kept on growing. Pet Market has grown to be 1 of the largest active, player owned groups on Ovi, and at the time of
writing this, Pet Market is inching ever closer to having over 7000 members.

That alone would be reason enough to celebrate, but this month also marks the milestone of Pet Market's 5th anniversary, ranking the
group among the longest active player owned groups as well. Yes, of course I'm just a tiny bit proud of that and I'm definitely not
going to let this moment just slip by. There should at least be a little group party to honour the moment, but since I'm absolutely
no good at keeping things small, that's obviously not going to happen. I'm going to host birthday events for a whole week.


I'm not going to sit here and pretend that I have the whole thing set up and ready to go yet. I have a few events left that still
need to move from my thoughts out to my fingers, but the biggest events are all fully prepared and I've done all this long enough
now to be able to pick the rest from my brain along the way. The main thing is that it's all going to be about having some good
old Ovipets fun.


This is only the story of how Pet Market came to be and what it has become. The future of Pet Market and all it brings remains
unwritten. What is certain is that the story of Pet Market will continue and that it will always be one of free fun and games,
much in fact, like Ovifans.


That said, Pet Market's week long birthday party is set to start within hours of this blog post. There will be games, raffles, free
gifts and lots of prizes to win. If you're already a Pet Market member, that's great, keep an eye on your notifications and you won't
miss a thing. If you're not a member yet, well then by all means, feel free to stop by and join in. Everyone is always welcome and
all that we ask is that you read and stick to our fairly straight forward group rules.
Pet Market on Ovipets: http://ovipets.com/#!/Pet.Market
Edited last by: Ann @ Nov-25-2018 8:02 am